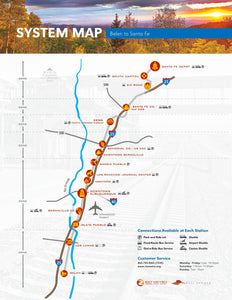 About Our Website
Welcome to the enchanting world of the New Mexico Rail Runner merchandise website, your one-stop destination for captivating memorabilia that celebrates the spirit of the Land of Enchantment. Immerse yourself in a treasure trove of exquisite products that capture the essence of this remarkable railway system, its diverse landscapes, rich cultural heritage, and vibrant communities.
Our website offers a curated collection of New Mexico Rail Runner merchandise, carefully crafted to commemorate the transformative journey through the heart of this extraordinary state. Discover a range of captivating items, including lapel pins, patches, apparel, accessories, and more, all designed to delight rail enthusiasts, travelers, and collectors alike.
Explore our train stop patches, each a miniature masterpiece that showcases the uniqueness of iconic locations along the Rail Runner route. Meticulously embroidered details and vibrant colors bring to life the architectural wonders, natural beauty, and historical significance of each stop, making them wearable works of art that symbolize the magical moments of each journey.
Delve into our lapel pins, exquisite symbols of the Rail Runner's impact on New Mexico's heritage and modernity. From the Sandia Pueblo Station to the Bernalillo County/International Sunport Station, each pin honors the natural wonders, cultural diversity, and historical landmarks, ensuring an authentic connection to the region's essence.
Our apparel and accessories collection offers stylish and comfortable options to showcase your love for the New Mexico Rail Runner. From cozy hoodies to trendy caps, each piece is designed with care, featuring iconic Rail Runner motifs that make a statement wherever you go.
With secure online shopping and seamless navigation, our website ensures a delightful shopping experience. Convenient filters and search options help you find the perfect memento, whether it's a gift for a loved one or a cherished keepsake for yourself.
Immerse yourself in the captivating allure of New Mexico with our thoughtfully curated collection of Rail Runner merchandise. Celebrate the spirit of adventure and the transformative power of rail travel. Let our products be your companions as you embark on journeys through the heart and soul of the Land of Enchantment. Welcome to the New Mexico Rail Runner merchandise website - where the magic of the rails comes to life!